Why Book Direct
Enjoy the lowest rates anywhere when you book direct with us at The Sultan. We're so confident of our price guarantee that if you find a lower rate* anywhere else, we'll better it by 10%. Yes, it's that easy!
When you book direct, not only do you receive confirmation immediately from the hotel (is there anything worse than hearing "we can't locate your reservation"?), we're offering the following direct booking benefits.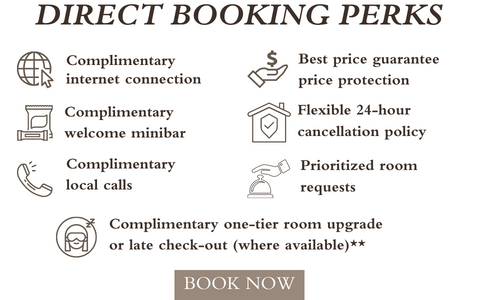 Terms & Conditions:
Black Out Dates: 24 – 26 Dec, 31 Dec – 2 Jan, Singapore F1 Grand Prix Season
Direct booking benefits may differ for promotional rates. Please refer to rate details on booking engine for information on complimentary inclusions for your reservation.
* Lower rate refers to a lower price for the same room type on the same dates under the same booking conditions (date booked, cancellation policy, breakfast-inclusion, no utilization of 3rd party credits, loyalty points, limited time vouchers, etc.).
** The determination of whether this benefit is granted is at the sole discretion of the hotel, and only confirmed on the day of arrival.
We do not guarantee availability of our room types while a price guarantee claim is being processed. We highly recommend that you confirm a reservation with us before proceeding to make a price guarantee claim to hold your room.
THE SULTAN RESIDENCES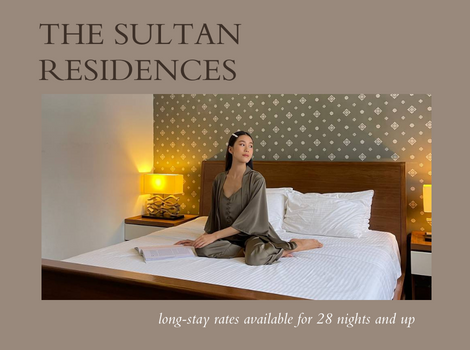 Live and breathe in Time Out's 29th Coolest Neighbourhood In the World! Make The Sultan your base in Singapore and experience the confluence of rich history, bold culture and incredible architecture unique to Kampong Gelam.
Enjoy direct-exclusive rates starting from only S$2700.00 per month that are catered to helping you make the most of your longer stay with us when you stay a minimum of 28 nights. With amenities like weekly housekeeping and 24/7 receptionist services, enjoy the benefits of home without any of the fuss.

INTERNATIONAL TRAVELLERS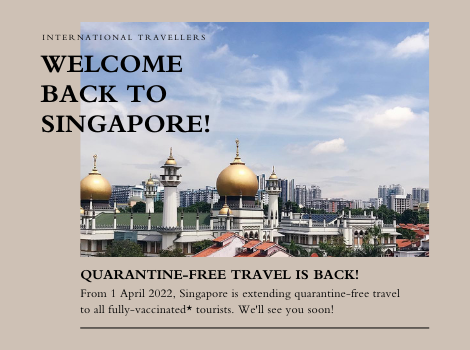 As of 1 April 2022, Singapore is welcoming back fully-vaccinated* travellers without quarantine or on-arrival testing requirements! To ascertain whether you meet the requirements set by the Singapore government for quarantine-free travel into the country, click here.
Please note that we are still not able to take in guests who are required to serve the following:
– Stay Home Notice (SHN) for any length of time
– Quarantine Order (QO)
– Home Recovery Scheme for COVID-positive individuals or their close contacts
– Any COVID-positive individuals or their close contacts
* It is your responsibility to ensure that you meet all the requirements of quarantine-free travel into Singapore under the Vaccinated Traveller scheme.